Interview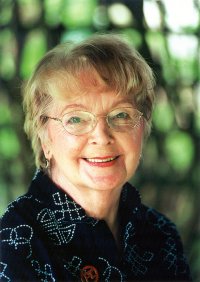 The following are excerpts from an article published in the Evening Argus, Brighton, Weekend edition 12-13 August 2000. It is reproduced here by permission.
Elvi Rhodes's life reads like one of her own novels: girl from poor northern background grows up to be one of the country's best-selling authors, meeting many personal setbacks along the way. Feature Writer of the Year ANGELA WINTLE went to Rottingdean to meet this down-to-earth woman.
Best-selling author Elvi Rhodes opens the door of her Rottingdean home wearing a bright pink top, black cropped trousers and strappy sandals. I don't know her exact age but she confesses to being a 'babe-in-arms' when her father returned from the First World War, so that'll give you some idea. The years have been kind; her face is remarkably unlined, her complexion unblemished and she has retained her youthful slim figure. 'I've always been interested in clothes,' she says. 'The day I'm not interested in fashion will be the day I die.' She confesses that her latest purchase is a pair of fuschia shoes with kitten heels.
Elvi may not be as well known as Catherine Cookson or Danielle Steele but in the book world she is in the premier league and achieves sales better-known writers would die for. She has sold two-and-a-half million books to date and makes it into the Top Ten every year. Twenty years ago she was almost unknown - her only claim to fame being short stories in women's magazines. But one story struck a chord and four agents contacted the magazine asking 'Who is this woman?'
At an age when most people would be considering retirement Elvi struck out on a writing career which has transformed her life. She is currently writing her seventeenth novel and she still derives satisfaction from her success. 'When my latest book is out in paperback I go into Brighton bookshops, surreptitiously - well, nobody recognises a writer, do they? - just to have a look. I hope I never lose that. Where would the thrill be if I took it all as run-of-the-mill?'
Her popularity is reflected in the annual payment she receives from the public lending libraries under the Public Lending Rights. She is among the 100 most-borrowed authors and there's stiff competition - some 27,000 authors are registered. 'The most you can earn in a year is £6000 and I've been receiving that for years now,' she says.
Elvi's northern roots are still apparent; her Bradford accent is there and she has the practical approach to life often associated with the North. There is an iron will under her mellow exterior but she has a lighter side and the humour in her writing was what caught the eye of publishers. Though by her own admissson she is not naturally gregarious she nevertheless makes her presence felt in the community. A former Samaritan, and a founder member of Shelter, she has a strong social conscience and has never forgotten the poverty of her youth.
Elvi lives in a spacious bungalow in a quiet neighbourhood. It is an unassuming locality for a woman who must command a substantial income and her home, though comfortably furnished, is similarly modest. There are few signs of her profession. Her books are tucked away upstairs out of sight as though she is afraid visitors might condemn her for self-display. Her laptop computer is the only clue to the eight hours she writes daily.
Many of her novels are about women trying to find their place in the world or who are out of kilter with their own time. They often centre around woman struggling to survive in the workplace in unenlightened times. 'My historical novels are never about kings and queens but are firmly rooted in the lives of ordinary people,' she says. 'What interests me is the price of bread.'
She doesn't flinch from writing about sex but it is never gratuitous. 'I once had a letter from a stranger who told me she had always wanted to write a novel and asked me if I would be her mentor. "Of course," she said, "I could never write sex scenes like you because I have always been faithful to my marriage." I wrote back: "if you are ever to be a novelist the thing you must have above everything else is imagination."
She researches her novels meticulously and always visits the places she writes about. She says, 'I bring New York into my books quite a lot because I have a son there, and when I wrote about the American Civil War I went to Virginia and I researched in the New York Public Libraries and at the New York Historical Society. I would never have the effrontery to write about a place I haven't been to and didn't know. Conversely, her characters are never drawn from real life, though people find that hard to believe. They say "Be careful what you say to her. She might put you in a book!" This is usually said by someone I wouldn't dream of putting in a book.' Her characters are totally real to her. She tells the story of walking up Broadway with her husband and passing a church. "That's where Ruth Appleby was married," she told him. "My dear girl," he said. "Ruth Appleby isn't real. She's a work of fiction!" She wasn't best pleased. "To me she's real," she said. That about sums it up,' she told me. 'My characters are real to me. I try to think inside them.'
But who, I wonder, are her readers? I pick up a copy of her novel, The Birthday Party. The jacket depicts an elderly woman picking flowers. 'If I saw this cover I'd say your readers were the middle-aged market.'
'I suppose you would,' she says, 'But that's not the case. I know I have a wide readership because I have letters to prove it. My publisher tells me that I have a personal following and that when people have read one book, then they tend to read the rest. My readers range from a girl of fourteen who saves up her pocket money to buy my books right through to people in their eighties. She receives a lot of mail, and passed-on messages. An often-used phrase is "Your book helped me get through the night." 'I've had one or two letters from men after their wives have died,' she says. One said "My wife loved your books and after she died I picked one up and read it and it helped me" .That brings something into the life of a novelist which is beyond value.
Elvi's childhood was not always happy. She was the eldest of five children in an often stormy marriage. When her father returned from fighting on the Somme he was a stranger to her and it caused problems which were never solved, though she doesn't go into any details. It was in an attempt to escape from domestic problems that she found her way to church at the age of seven. 'It was a refuge. ' She still goes to church. It has never let her down, she says. She does go to considerable lengths to stress the warmth and spirit of adventure her mother brought to her childhood. "She was sparky and creative. She was only eighteen when I was born so we were always close"
Elvi's gift for storytelling was there at an early age. Many years later, when she was an established author, a reader wrote to her saying she remembered her as a child, telling stories to the local children. Elvi wrote back saying she didn't remember this but she did have a vague memory of something very cold. "That's right!' the reader replied. "We sat on the stone floor in the porchway. It was cold, but we didn't mind because the stories were so good!"
She won a scholarship to a Public Day School but far from opening a window into a wider world it bred a sense of exclusion which remained with her for most of her life. '"In those days it was a rich girls' school. I felt totally out of place. I'm sure it was no-one else's fault (except for the teacher who every Monday morning called me out in front of the class to hand me my free dinner tickets for the week). I just didn't fit in. I felt marked out and I grew totally introverted, though I was never introverted at home. School snd home were worlds apart.'
Whatever her social failings, she was certainly a determined young woman because at eighteen she had a series of twelve children's stories published in a national children's magazine, and later had radio stories and plays accepted. She was unable to go to university because she was needed to earn money for the home. She took a job in the local Public Library, little knowing that one day her own books would be on the shelves. It was in this setting that she met the young man who was to be her husband. His father asked him 'Why are you changing your books so often these days?' They married early in the war and had two sons, Stephen and Anthony. She wrote short stories intermittently. When the boys were in Junior school the family moved to Surrey, taking a baker's shop and small cafe. Elvi was the first person in her family ever to leave Yorkshire.
Her husband was always thrilled by any success she had. He was far more proud of her than she was of herself. Sadly, he died some years ago. Looking back over her long marriage she says her husband found it very easy to talk to people, much more than she did. 'I've never been good at small talk,' she says. 'I was probably rather serious. It wasn't until I was widowed that I started to change, I had to gain confidence. Her new-found confidence was largely forged at St Margaret's Church in Rottingdean, East Sussex, where she was Churchwarden for six years.
The past few years have not been easy for Elvi. Not only did she lose her husband but her younger son, Anthony, also died - of cancer. She never once questioned her Christian faith. 'I might have shouted at God,' she says. 'Indeed I certainly did, but it didn't change my faith. And I had incredible support from the people in St Margaret's,' she says. 'And still do!' She kept on with her writing and must have gained some satisfaction that her books still made it into the charts. 'Though I'm a bit slower than I used to be. I used to write a book a year, now it takes me eighteen months. I asked her how many more novels she thought she would write. 'I don't intend to stop just yet, but I hope I'll know when to do so. I hope I'll recognise if I'm not writing too well and do something about it.'.
Copyright © 2000 Evening Argus, Brighton
---